E001 KOTKIN & E002 WEISZ
HIGH-RES DOWNLOAD PACKSHOTS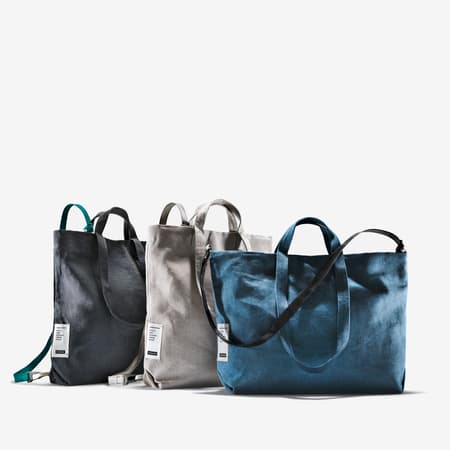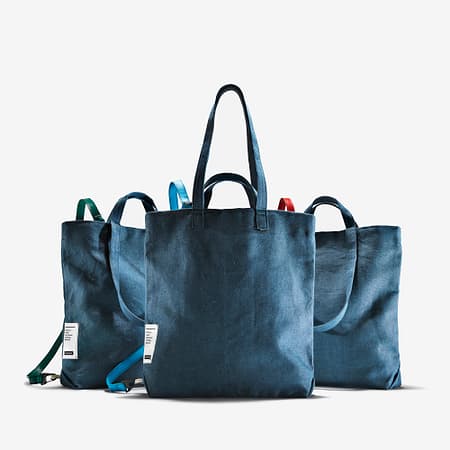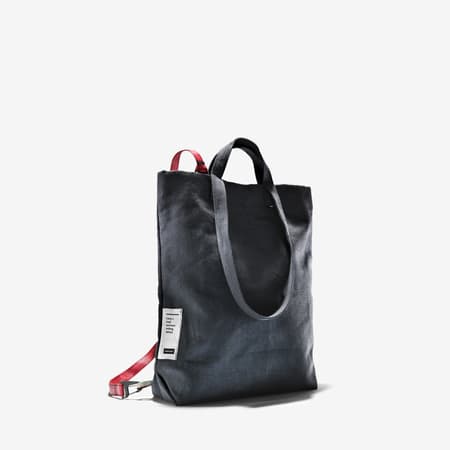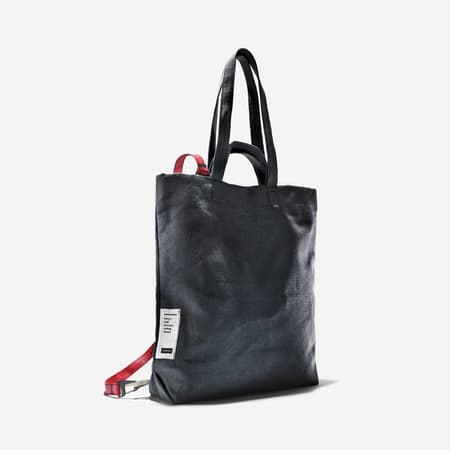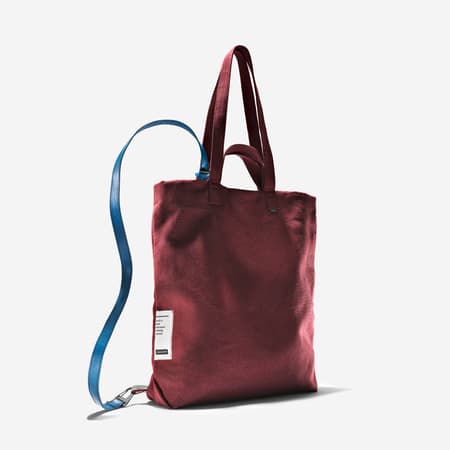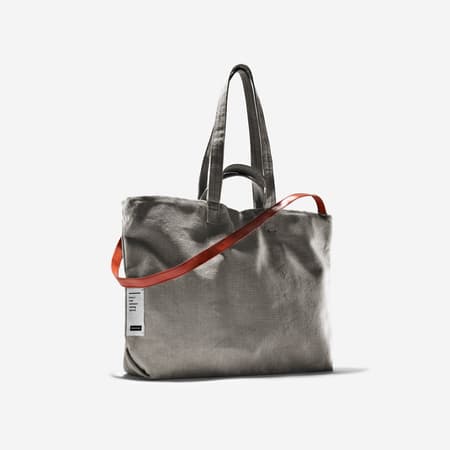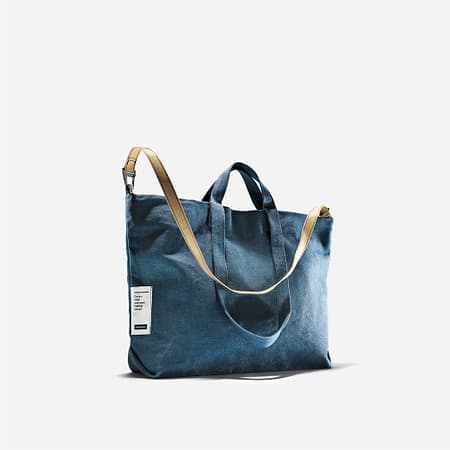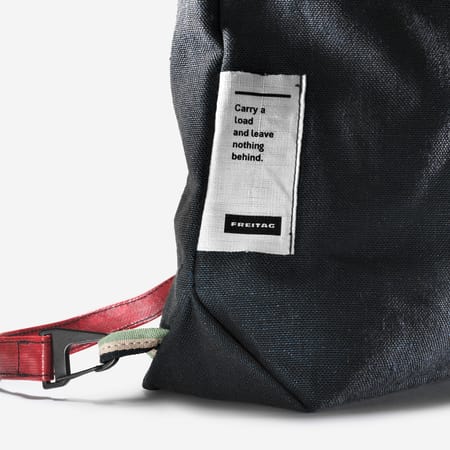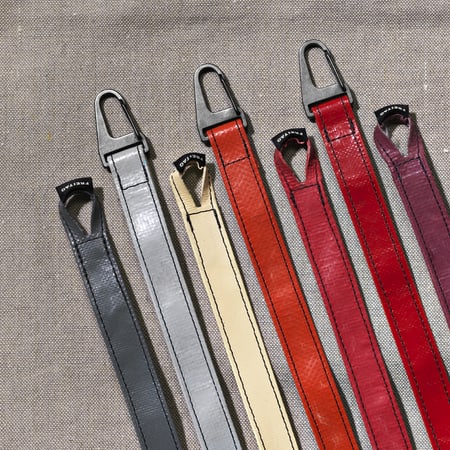 Please mention the photo credit: Daici Ano
CARRY A LOAD
AND LEAVE NOTHING BEHIND
E001 KOTKIN & E002 WEISZ
FREITAG packs all its old passion and the new material together in two F-ABRIC bags. E001 KOTKIN and E002 WEISZ are the names: they're virtually unique and, one day, they'll disappear without trace.
For over 20 years now, FREITAG has been supplying individualistic urbanites with one-off pieces made from old, recycled truck tarps. And since 2014, we've also been working with F-ABRIC textiles, which were developed in-house using European bast fibers and are 100 % biodegradable. Something we only used to be able to wear can now be filled up and carried around.
There are plenty of textile bags around, and most of them are made of cotton. The E001 KOTKIN tote and the E002 WEISZ shopping bag are made of French flax, a simple fiber used in fine, robust weaves that is well served by the wet climate of Normandy and requires no chemicals of the kind that contaminate the soil in which it grows.
This won't lead to FREITAG bags that all look the same. That's why you can now select a carrying strap made from a piece of recycled truck tarp with a carabiner. Known as the F252 BANDIT, it gives the textile bags a touch more individuality as well as an alternative way of carrying them.
E001 KOTKIN and E002 WEISZ are pretty tough. But when they've finally given their all, simply unscrew the F-Button, slip off the F252 BANDIT, throw the textile bags on the compost heap and leave them to turn into humus. That, incidentally, is the reason we gave them the real names of famous illusionists. After all, the fact they disappear is no trick but simply the magic of decomposition.
The new F-ABRIC bags are available in Ink Grey, Nature Matte, Misty Blue and Stone Red.
Short and long carrying straps
Customizable F button for closing the bags
Screw-off tarp label that also serves as a flap for the inner pocket
The bags leave only humus behind them

ORIGIN:
Made of FREITAG CANVAS (100 % linen), developed in-house
Produced by fairly paid adults within 2500 km of FREITAG Headquarter
Spool-dyed and dendrimer-coated
The material complies with Product class I of the Oeko-Tex® Standard 100, making it suitable even for babies

E001 KOTKIN
Technical Information:
Dimensions: 380 × 300 × 90 mm, 14.9 × 11.8 × 3.5 inch (l × w × h)
Volume: 16 liters
Price: CHF 130.- / EUR XXX.- / GBP XXX.- / USD XXX.- (excl. TAX) incl. F252 BANDIT

E002 WEISZ
Technical Information:
Dimensions: 310 × 380 × 100 mm, 12.2 × 14.9 × 3.9 inch (l × w × h)
Volume: 16 liters
Price: CHF 130.- / EUR XXX.- / GBP XXX.- / USD XXX.- (excl TAX) incl. F252 BANDIT
DIE GNEBORG-PERSPEKTIVE: ANOTHER KIND OF MAGIC
Das Lausanner Fotokünstlerduo Gneborg baut seine Bilder nicht in Photoshop, sondern erarbeitet sich seine Illusionen mit aufwändigen Konstruktionen aus Alltagsgegenständen. Deshalb haben wir sie zusammen mit unseren neuen Taschen, deren Verschwinden keine Illusion, sondern magische Wirklichkeit ist, in unsere Zürcher Schreinerei eingeladen. Sie haben zugesagt, drei Tage gebastelt, inszeniert, gezaubert – und dann alles wieder restlos weggeräumt. Merci beaucoup!
HIGH-RES DOWNLOAD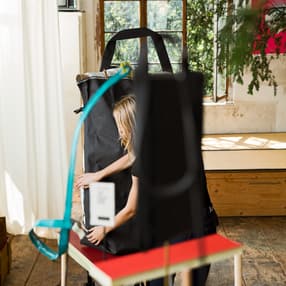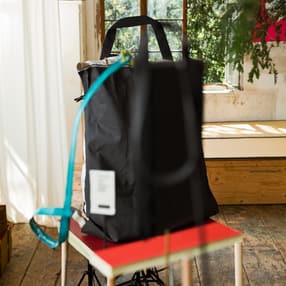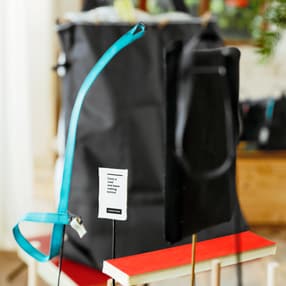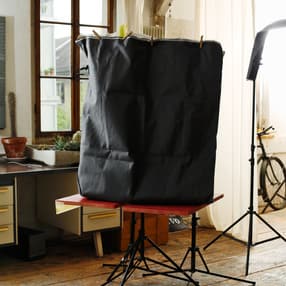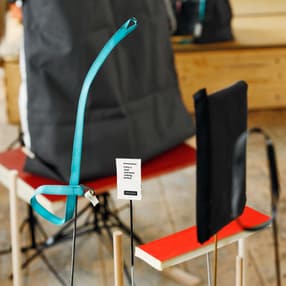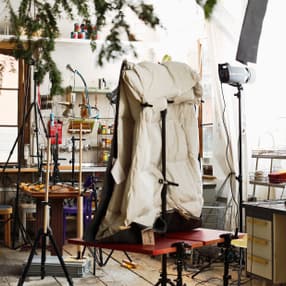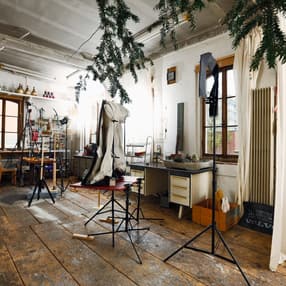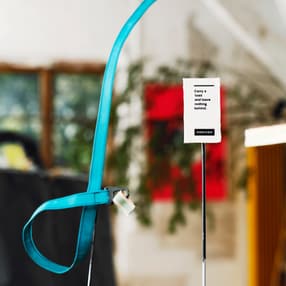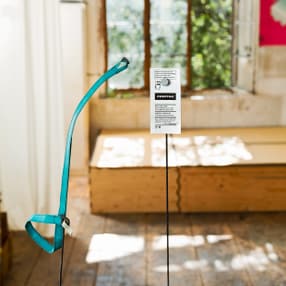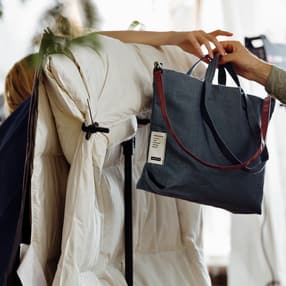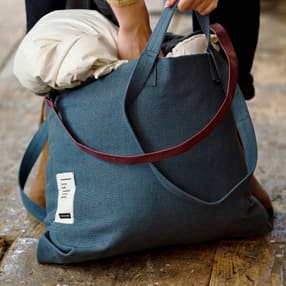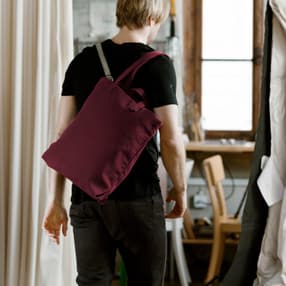 Please mention the photo credit: Daici Ano