F733 ZIPPELIN
Please mention the photo credit (see image caption)
FREITAG KICK-STARTS THE ZIPPELIN
FREITAG invents the first one-of-a-kind intercontinental bag that's spacious when you need it, and compact when you don't: ZIPPELIN. Tickets for the recycled travel-air-ship are available from September 12 to October 12, 2017, on crowdfunding platform kickstarter.com.
For more than 20 years now, FREITAG has been using old truck tarpaulins to make robust, multifunctional bags that all look completely different from each other. And for almost as long, fans of the Zurich-based bag makers have yearned for a big, rugged, one-off travel bag they could recognize anywhere at a distance and never mistake for another at baggage reclaim, even without a label.
The flash of inspiration it took to transform a limp old piece of truck tarp into a stable, large-format travel bag that, even only half-full, wouldn't exceed the free baggage limit imposed by the world's airlines took its time coming. The solution FREITAG's product developers and prototype cutters hit on is as unusual as it's compelling. Because it isn't based on some bulky frame-like container or semi-finished shell, but actually comes from FREITAG's favorite means of transport. Hidden away inside the ZIPPELIN is a common-or-garden bicycle inner tube you can inflate with a standard pump and, thanks to the zip, replace quickly and simply.
It makes the ZIPPELIN a light, tough long-haul one-off on skateboard ball-bearing rollers and at the same time solves the storage problem facing luggage owners without an attic or cellar to call their own. Because when your vacation's over and you let out the air, the 85-liter bag shows its true greatness. Rolled up, the ZIPPELIN takes up no more space in your closet than the two liters of booze you bought at duty-free.
For all its experience in the inner and intercity bag sectors, FREITAG is still a bit of a greenhorn in the intercontinental business and decided to launch its new travel-flag-air-ship exclusively through crowd-funding platform kickstarter.com. It means that, for once, FREITAG's production crew will have a precise idea of demand before sacrificing any truck tarps and cutting out the first bag from limited raw materials. Which is important, because making a ZIPPELIN takes about five times more tarp than a small messenger bag. The reason for offering what is a small revolution in big travel bags to the innovation-crazy Kickstarter community hinged on the size of the crowd and not on the funding. The ZIPPELIN is already geared up for production and inflation, and FREITAG has no need to pump any more into product development.
Update: After the successful first flight of our inflatable travel airship, we have decided to include ZIPPELIN in the FREITAG travel bag range for the second half of 2018. More info: www.freitag.ch/kickstarter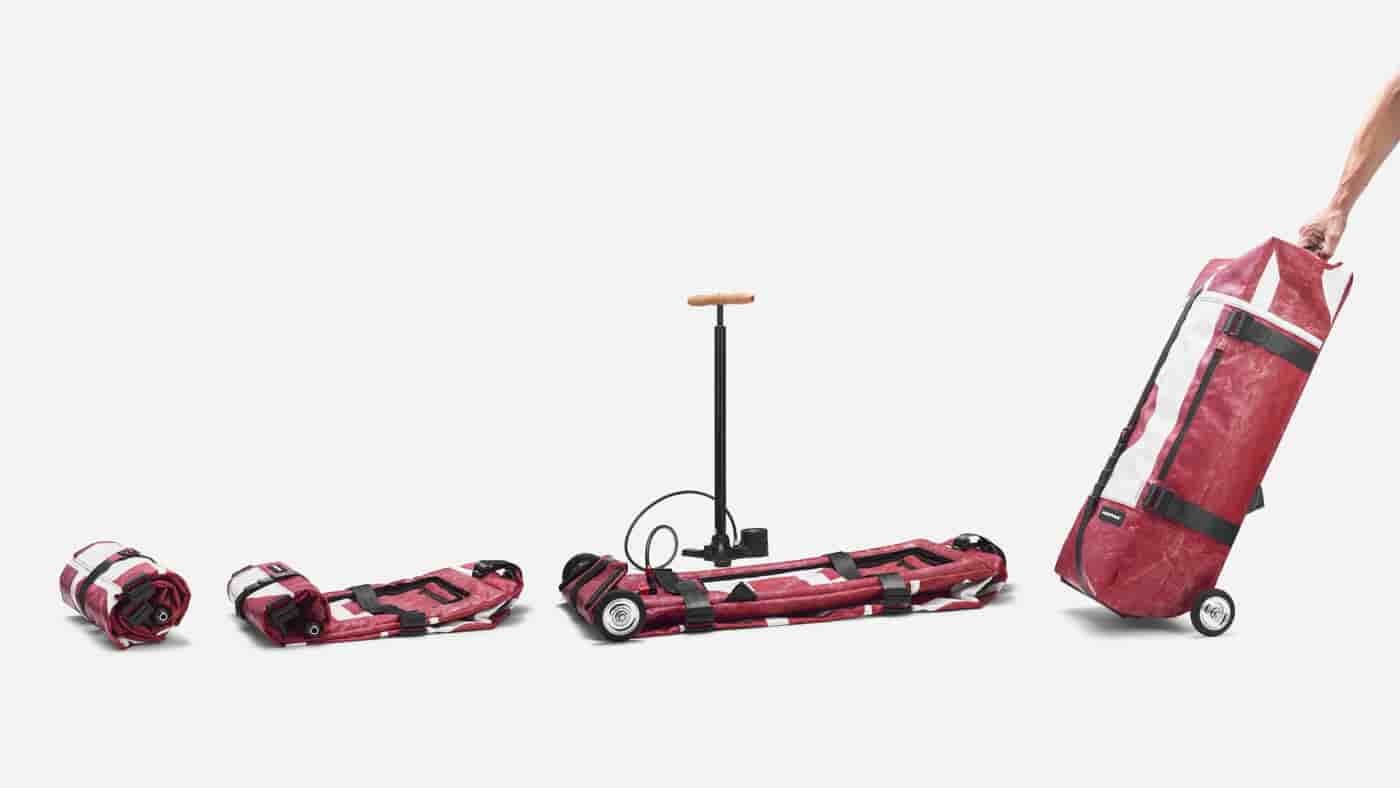 FREITAG ZIPPELIN – ABOUT INNER TUBES, INNER VALUES & OUTSTANDING FEATURES
Inflatable, made from used truck tarpaulins, and with a capacity of 85 liters: when rolled up, the one-off travel bag from Zurich-based bag manufacturer FREITAG needs no more space than the two-liter bottle of booze from duty-free.
Dimensions: 85 × 42 × 25 cm
Dimensions Burrito (rolled up): ca. 42 × 20 × 20 cm
Volume: 85 liters
Weight: ca. 3.6 kg
ROBUST and RECYCLED
Made of robust, water-repellent truck tarps that spent their first lives traveling the roads of Europe on heavy goods vehicles
UNMISTAKABLE
Cut by hand in Zurich: every bag a one-off
LIGHT
Stability without shells or struts thanks to a standard 28" bicycle inner tube that inflates with a regular pump and, thanks to a zip, can be simply replace
ENORMOUSLY SMALL
In between vacations, it rolls up to save space for easy storage
THE 360° DETAILED FEATURE TOUR
Front: double-zipper access to the main compartment with an additional safety belt that serves as a shoulder strap on terrain where rollers are impractical
Top: two top grips make it easy to pull with your right or left hand
Below: stainless-steel, quick-release axle with 100-mm metal core stunt wheels for wheel-free check-in. Protective strips prevent damage to the bottom of the bag and keep it firmly upright
Sides: straps keep bag compact, make it easy to roll up and are handy for holding unusually long objects – one-handed grip for lifting and carrying short distances and address pocket on the left – extra zipper sleeve on the right
Back: quick-access zip flap to main compartment – access to valve – zip for fast, easy inner tube replacement – zipper compartment for wheels and axle – zipper compartment for small stuff like documents – sleeve for flat stuff like magazines
Inside: bags of room and a side pocket
MOVING IMAGES
Click here for ZIPPELIN's Kickstarter movie: www.freitag.ch/kickstarter
For downloading right-click on animated gifs: