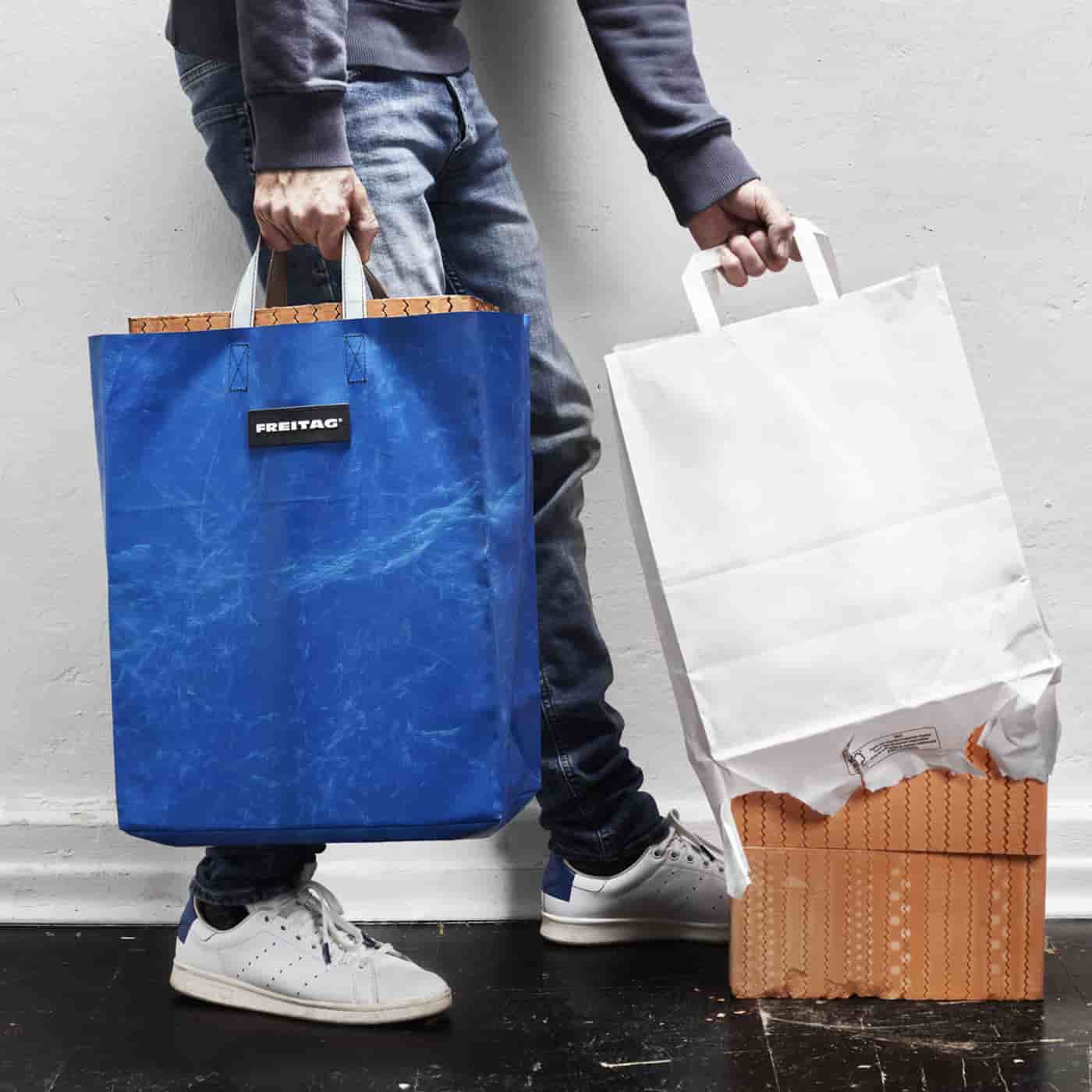 Let's wind back to when FREITAG was just three years old. It was 1996. Our bags could already be bought in Germany, we had a proper website and we already had multiple bag models in our range –  but they all looked pretty similar and differed mainly in terms of size. So Daniel and Markus decided they wanted to use their old truck tarp to create something new and different for a change.
One day, as Markus stood in Migros (one of the two main supermarket chains in Switzerland), he suddenly discovered that there was more than the next FREITAG bag model at stake. On a rack sat a bag that looked strangely familiar to him.
The bag, which featured a "Donnerstag" logo – the Thursday to FREITAG's Friday – was not a unique item: it only came in blue, it most definitely wasn't recycled and it came from China.
"Are they allowed to do that?" "Does the Donnerstag bag mean the beginning of the end for FREITAG?" These were the concerning questions that plagued the minds of the FREITAG brothers and the still-mini F-crew.
«A rip-off of the first classic design is the reason for the second classic FREITAG design.»
FROM RIP-OFF TO ONE-OFF
Luckily, and to everyone's relief, there was no monster lawsuit and FREITAG wasn't driven to an early grave by a tsunami of Donnerstag bags. Thanks to the wave of sympathy that came from our F-ans and F-riends, and the media attention this gained, Migros stopped selling the Donnerstag bags and promised to never again name one of their bags after a day of the week. 
But what has that got to do with the F52 MIAMI VICE? Inspired by the major supermarket's passion for imitation and the fact that paper bags aren't all that environmentally friendly, Daniel and Markus decided to launch a recycled, unique, robust and always re-usable copy (or in this case, a reinterpretation) of the typical Swiss shopping bag.
A rip-off of the first classic design is the reason for our second classic FREITAG design, the F52 MIAMI VICE. Every year, more than 30,000 of these revenge bags are cut from used truck tarp, and they still live up to their original description: "Simple, powerful and ugly".