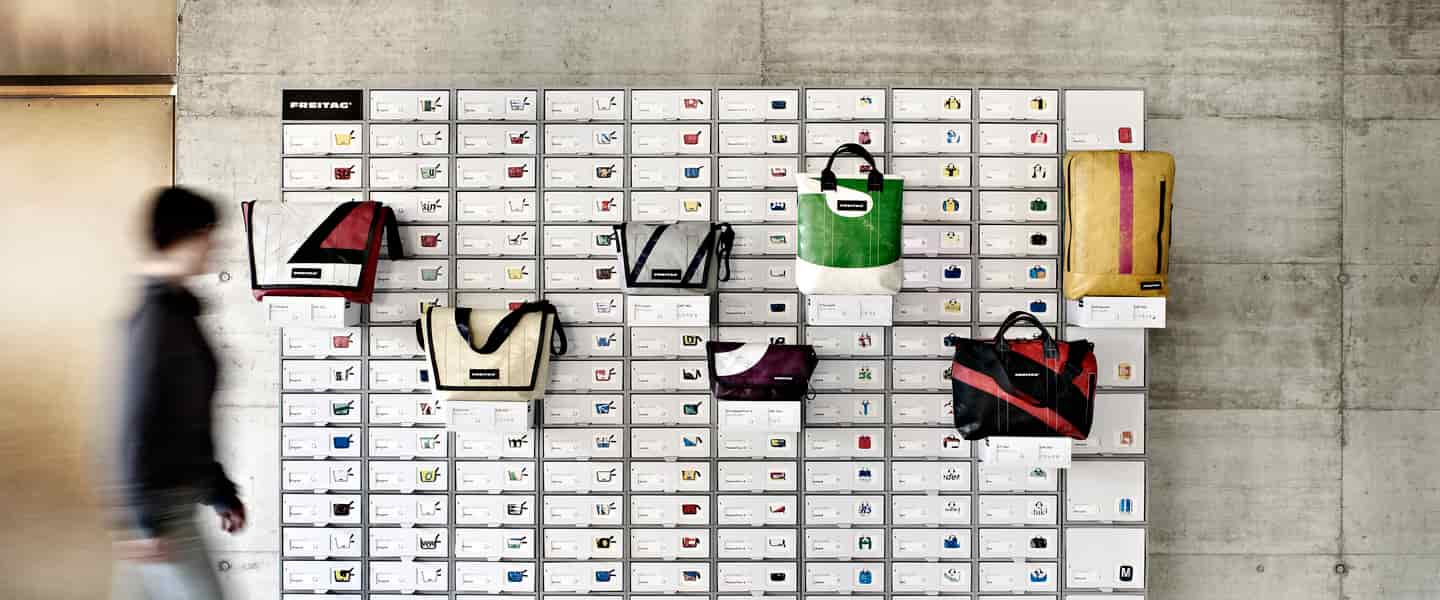 Our points of sale
FREITAG Stores:
FREITAG operates several of its own stores, which house the largest selection of bags worldwide. The best known – and most unusual – of these is the FREITAG Flagship Store in Zurich. It is constructed entirely of rusty, recycled freight containers. They were lovingly collected, reinforced, piled one on top of the other and bolted together securely.

F-Dealer:
We divide our partners into seven shop categories:
1. Upper Streetwear Shop
2. Streetwear Shop
3. Skate Snow Surf Shop
4. Concept Store
5. Interior Design & Design Gadgets Shop
6. Special Interest shop (Museumshop, Bikeshop, Apple Premium Reseller, Art Supply, etc.)
7. Urban Fashion

Each type of shop possesses its own set of individual requirements. Our empirical values are based on these and they help us to advise partners on the size of the product assortment and the selection of models that they should retail in their store.
FREITAG Shelf System
Swiss Design Price for the FREITAG Shelf System:
Designer Colin Schaelli designed and developed this system especially for FREITAG based on the existing elbow-shaped V30 SKID basic module. It received the Swiss Design Prize in 2009.

Made from recycled plastic, ranging from modular to myriad other options, urban, industrial, intelligent and raw – the V30 SKID offers many advantages and enables FREITAG resellers to display products in an uncomplicated and yet ultra-compact manner:

Modular Shelves: Thanks to the modular sales elements, every reseller can set up his/her own sales area individually and thus use their space as efficiently as possible. The system can be expanded easily if required.

Oodles of Products in a Small Space: Our experience has shown that the larger the selection, the more successful the sales of FREITAG products will be. The sales system allows resellers to display as large a selection as possible in the space reserved for FREITAG products.

Structured Product Portfolio: A further decisive factor for successful sales is an organized and clear presentation of the product portfolio. Customers must be able to find their way around quickly. This is why one example of each model is displayed openly on the V30 SKID and the color choices are presented in the drawers.

Easy Reordering: With the V30 SKID, sales staff can keep tabs on the product assortment at all times. Products that are sold can be quickly replaced by regularly reordering.

Brand Recognition: FREITAG is immediately recognizable to customers. The sales elements give the POS the typical FREITAG look.